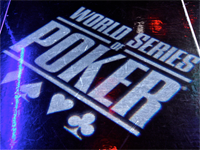 Titan Poker recently announced a tie up deal that the poker site had made with PokerListings.com that would result in tow large WSOP main event packages being given away to lucky players for no cost whatsoever.
These packages will get players interested in being part of the World Series of Poker, a chance to cut to the chase and fast forward right to the main table. This would mean that the winners of these two packages will not have to battle their way through several other poker players and risk the possibility of falling out before the main prize was on the line.
These two packages are for the Main Event at the 2010 WSOP and players can get in on the action by participating in one of the freerolls hosted by the site. These freerolls will end on The 8th of May 2010. Should the players win the freeroll, they will be able to take a seat in the 2010 WSOP final table. The package is worth $10,000 which is the agreed upon buy-in got this years 2010 Main Event. Winners will also enjoy the many benefits that they will earn from the package as a result of the deal that Titan Poker made with PokerListings. This will include entry to the PokerListings VIP Champion Camp which allows its members to have a sophisticated Las Vegas experience by going out on helicopter tours, and enjoy fine dining at some of Vegas' best restaurants and shopping at some of the more effluent boutiques.
In addition to the two WSOP packages on offer to players, the site has also made provisions for players to benefit from PokerListings' promotions and get rewards that include designer suits, fashion accessories like sunglasses and professional poker strategy lessons designed to help players hone their skills before they sit down at the WSOP. Players are encouraged to bet well at these events so as to increase their winning potential and Titan Poker has made an allowance for this by proving members with cash prizes. Winners of the packages will also be able to purchase plane tickets for their friends and loved ones who would want to come and watch the final game.