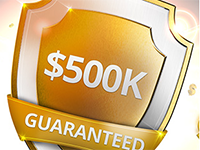 Some people will try and tell you that there is nothing guaranteed in life apart from death and taxed. This is blatantly not true. If you want proof that there are some things in life which are guaranteed you only have to check in and see what Party Poker is offering this Sunday. On Sunday the 11th of May 2014, Party Poker has a guaranteed game with a prize pool of $500,000. The top prize in the game is a cool $100,000 so there is definitely going to be a lot to look forward to. The fact that these prizes are guaranteed flies in the face of what so many people tell you is true.
The big event starts at 14:00 ET, which is 20:00 CET and there are a number of ways in which you can play your way to glory. If you want to be guaranteed a seat at the big event all you need to do is buy-in directly at the price of $200. For some poker players, this will be too high a price but there will be some poker players that enjoy the simplicity of life and the peace of mind that comes with such an action. There is a slight incentive to buy yourself in to the event directly because anyone that does so will find themselves in line for a $500 win bonus on top of any other winnings they receive. If you are keen to add an extra reason to make an investment, this may be all that you need.
Poker players can have some fun for a very low fee
Of course, there are plenty of online poker players who have no intention of paying such a fee for a poker tournament. The good news is that there is no need to because there is an opportunity to qualify for the guaranteed event through satellite events. Satellite events have long been the favourite aspect about tournament play for many poker players and this major event is no exception.
There are satellite events running which have no entry charge and there are satellite events running which have a $1 charge. Clearly one of these entry prices is more appealing than the other but if you have been around online poker for any reasonable length of time, you know that the higher price entry level will always be slightly easier. As the saying goes, you pay your money and you take your choice.
If you still haven't qualified by Sunday there will be an additional chance to qualify through the Mega Satellites, which have a $5 entry fee. There will be 100 guaranteed seats on offer and this event takes place at 10:30 ET, which is equivalent to 16:30 CET. Gaining entry to a major tournament for just a five dollar outlay is still clearly good value so don't rule out this option too soon. There may not be many things in life which are guaranteed but there is guaranteed fun on offer for poker players on Sunday.