WPT Poker has closed on June 3rd, 2015. We now recommend playing at an other online poker site (we have some reviews on Casino Poker World) or visiting this site if you want to find a reliable online casino.
WPT Poker Has the Promotions You Want – And More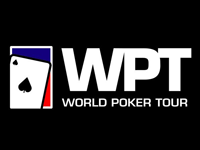 WPT Poker knows that there are many different online poker rooms out there. They know that some sites offer great start up bonuses that can help increase your bank roll, and some sites offer lots of lots of low cost games. They expect that you'll find many places that you can go to learn how to play online poker and even find some pretty good promotions out there. That's why the makers of WPT Poker have worked so hard to make sure that your experience on their site will be better than any other you've had out there.
They take the time to make sure that all of their members are happy with every aspect of the site, and you'll have the customer service to prove it. No matter what time of the day or night it is, you'll find that you can make a simple phone call and talk to someone that is ready to help you. Having problems with your software? Not a problem at all, just give a call and watch your issues be fixed. Think you've got an issue with your account? All you have to do is call, and you can talk to someone that really cares about helping you. Or, you can simply chat with someone online. You still get all the attention that you need and want, and you don't even have to pick up the phone.
It's not just about the customer service, though – and you're going to realize it soon enough. Take the rewards and points systems that WPT Poker offers. Unlike other sites, you're going to find that it's so easy to enjoy your rewards, you might just forget that you're earning them. All of their bonuses are dispersed in a simple way so that you can understand them, and what's even better is that this site is totally upfront about how you'll be receiving them. So, take the Refer a Friend bonus: you refer a friend, and when your friend makes a deposit of $10 and earns 60 points, you'll get a bonus – and so will your friends. You can go up to $100 and so can your friend, but it's a great way to earn extra cash, and it's all spelled out so you can easily understand the terms of the bonuses.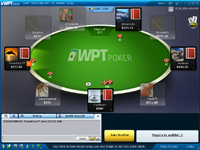 When you earn rewards, it's easy to understand how they work, too. See, WPT Poker doesn't believe in making it hard for you to enjoy your bonuses; if they say you'll receive something, they will deliver because they know that their members don't have the time or desire to screw around with sorting out bonuses or rewards. That's why they are totally upfront about how you will receive payouts and bonuses. That's why they make it so easy to play a cash game and earn points. Then when you've earned enough points, you can trade them in for cash, or you can enjoy some of the amazing rewards that this site has to offer.
Big promotions
Now, maybe you're wondering what else this online poker room has to offer that can make it easier than ever for you to enjoy your poker playing experience. How about some amazing promotions that you can enjoy and can help you to win lots of extra cash? Consider the Autumn Million promotion. With this one, you can qualify for just $1 and be entered to win your share of a guaranteed million dollars in prizes. It might seem too good to be true, but the creators of WPT Poker know that not everyone wants to burst their budget to enjoy great cash and prizes, so they have made it easier for everyone to get going with their promotions.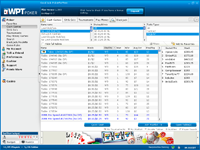 Want more? You might enjoy the Oktoberfest VIP package, which will send you on a luxury trip to Oktoberfest, and give you lots of cash prizes as well. Or, every week you can play for the $5,000 bank roll buster. This can help you boost your bank roll with your share of a guaranteed $5,000 each week. These are just a few of the best promotions, but they are guaranteed to get you excited about playing online poker with WPT Poker.
The bottom line is that if you don't have the chance to win more great prizes and cash, then you're just playing online poker. That's why WPT Poker wants to help you play online poker your way.
Big tournaments
While we're on the subject of winning, let's talk about the tournaments that this site has to offer. You're going to find a wide range of scheduled tournaments that can help you to win big time money. You might decide that you want to use one of the great features that WPT Poker has to offer, like Deal Making. This is one great way that those left at the table can make a deal and split the winnings, but you have the options, so if you're sure that you're going to win, you might not want to take this route.
If you don't want to wait for a scheduled tournament, you can always choose a sit n'go tournament, which gives you the flexibility of playing when you want to play. If you're the type that likes to be spontaneous, then these tournaments can be a great way to win some cash when you feel like playing – and they don't have to cost you a small fortune either.
Big wins
One of the biggest reasons that people like to play their online poker games with WPT Poker is because of the many ways that they can win money. If you want to have more chances to win cash and enjoy more excitement, then you might want to consider playing your online poker with WPT Poker. The games, the thrill and the winnings can't be beat.
If you really want to be able to enjoy playing and winning more; if you want to enjoy even better promotions and jackpots, then there is no better place to play your online poker than WPT Poker.