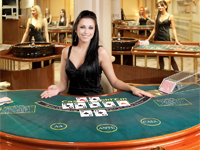 In a highly competitive industry, it is no surprise to see that new methods and ways to play are being introduced on online casino sites all the time. There have been plenty of great innovations in recent times but one of the most popular of the modern innovations has to be live dealer casinos. The fact that you can play at home and engage with live dealers is a great boon for many casino players but what are the real benefits? It cannot be just the fact that there is a good looking woman or man playing the role of the dealer on your computer screen.
There are plenty of other benefits that come from having an actual dealer play the game. One of the most important steps forward provided by live casino dealers is the fact that people feel safer when playing. This is slightly silly because online casinos have to undergo rigorous testing to make sure that the games on offer are fair and legitimate. Online casinos have to work very hard to make sure that they offer everything above board and there should be any concerns or doubts about what is on offer from these sites.
There is a better feeling of fairness with live casino dealers
However, there is no doubt that some casino players will have concerns about what an online casino site provides with respect to fairness. A lot of this is down to the fact that many people don't trust what they cannot see. The fact that you can see a physical dealer spin the wheel for the roulette game or turn over the cards in blackjack provides casino players with an added sense of confidence. If players were hesitant about playing online casino games because they were unsure about the veracity of the games, live casino dealers provide an added level of comfort and confidence.
There is also a lot to be said for the social dimension that these players add to the online gaming experience. There are many huge benefits that come from playing online casino games but it lacks something special that normal casino sites provide you. There is a lot to be said about the glamour, excitement and hustle that can be found in a standard casino. It is nigh on impossible to replicate that at home for online players but the appearance of a glamorous dealer can often add something to the gaming experience.
The fact that the dealer can interact with players will also help to engage players more. There is no doubt that these games provide a more in-depth casino gaming experience for players, which can only help introduce more people to online gaming.