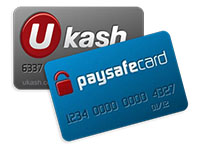 If you have bene playing online poker in recent years, it is likely that you will be familiar with the names Ukash and Paysafecard. There are times when poker players haven't been provided with too many deposit opportunities but these are two names that have regularly been available for poker players looking to top up their account.
This may make it seem as though the news that Ukash has been bought over by Paysafecard, and will now be known as Paysafecard in the UK, is bad news but in reality, there is nothing for poker players to worry about. The newly named option will be available in the same locations that Ukash was, so it isn't going to change anything. It is also true to say that the new option will be accepted in all of the locations where Ukash was previously accepted, so there is no reason to think that anything is going to change.
Some poker players don't like change
It would be fair to say that many people don't like change and would prefer things to stay the same. When you think about how well Ukash has worked for many poker players in the United Kingdom, you can see why many people would prefer for the status quo to remain in place. However, given that there is no tangible change that will arise from this switch of name, there is no reason to think that it will have any impact on an individual's poker playing activities or options.
Current Ukash customers can try out Paysafecard for free
Of course, no matter how much you tell people that things aren't going to change, there will always be some people that need some persuading. This is why the consumer promotion being organised by Paysafecard during August is well worth checking out. The company is offering all current Ukash customers the opportunity to try out the Paysafecard service. This is being facilitated with the offer of a free £5 Paysafecard PIN. This is definitely an offer that is too good to turn down, and hopefully any fears that people may have will be removed by this promotion.
When it comes to funding your poker playing opportunities, there is a great deal to be said for calling on the Paysafecard Poker option. Whether you have been a loyal Ukash customer over the years or you are looking for a safe and effective way to fund your online poker account, you will find that Paysafecard is a great option for UK poker players.